Marriage Equality Result – Love Wins!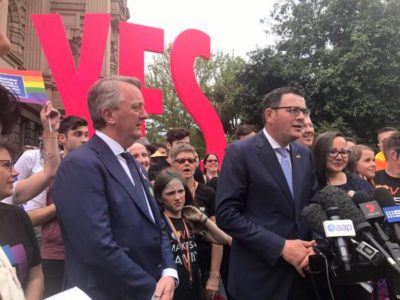 Australians have had their say. They've said 'Yes' to love and 'Yes' to supporting the rights of LGBTI people and their families.
Victoria has lead the nation, with 64.9% of us saying 'Yes'. An emphatic majority. The highest of any state.
But we're not done yet. Now it's time for Malcolm Turnbull to do his job and make marriage equality law.
This is a historic day for Australia. And indeed, a historic day for Victoria.
We can only imagine the relief that many Victorians are feeling today, and in particular our LGBTI community.
Let's take a moment to reflect on that.
It takes a special kind of courage to have something as personal as your loving relationship and loving family be subjected to the scrutiny of a public opinion poll and an at times ugly public debate. Something that most of us will never experience.
And why? Because some politicians were more interested in keeping their job than doing their job.
The community response has been incredible. Australians from all walks of life have come together to stand with a proud community who have fought so hard against prejudice for so long.
We are so grateful to millions who sent back their forms and said Yes. And to the thousands of volunteers who campaigned long and hard for this result.
To everyone who went to the rallies, who made phone calls, who doorknocked their neighbours.
Right down to those who had the tough conversations—with family members, friends, work colleagues. Indeed in some families, these issues were discussed for the first time. Those conversations take courage.
This was only ever about fairness. About allowing our LGBTI family members, friends, neighbours and colleagues, the same rights as every other Australian.
Today we say 'Yes'. Love is love. Equality is not negotiable.
And we can promise you, Victoria will stand with you and support you every step of the way in this next phase of your journey, to attain full marriage equality.